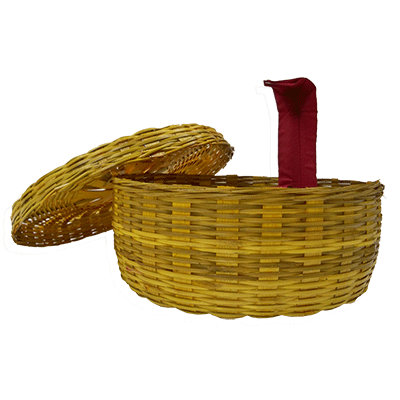 Cobra Tie in Basket (Snake Basket) by Premium Magic - Trick
RM180.62
RM139.00

Save: 23% off
All Testimonials
---
Saturday 06 June, 2020
I successfully received my item, I'm so glad to know this website, its a great site for Cardistry, Magician, gamer to get they struff, Trusted and great seller.
---
Saturday 11 January, 2020
I am extremely satisfied with my purchase. You guys are the BEST!!!!!!! Will totally be ordering more from TMS in the future! THANK YOU!!!! :)
---
Sunday 22 September, 2019
It's hard to come across a website that sells almost any type of playing card you can think of. The list of items on this site is endless! I bought a couple of decks from this site and the shipping was free. Would recommend 10/10.
---
Thursday 19 September, 2019
Wow, TMS is so great and reliable... it's my third deck I buy in TMS... I hope any magician in Ipoh I can meet so I can learn more trick...
---
Wednesday 24 July, 2019
good product quality and fast delivery..good wrap packaging's..
---
Tuesday 23 July, 2019
It's my first time shopping in TMS, I doubt about this website at first, finally my percel delivered safely at my doorstep, so, to all people who worries where to buy Magic stuff and there's is no magic shop nearest their area, I really recommend this website.

Thank you TMS.
---
Free Shipping + No extra charges = AWESOME
Friday 12 April, 2019
Ordered some decks and received in just 2 days. Didn't expect it to be this fast. No extra charges, no shipping fees, no transaction fee what so ever. What you see is what you pay. Awesome job to you guys and pos laju.
---
Best Legit online magic store!!!!!
Tuesday 19 March, 2019
Ordered on Sunday got it on Tuesday with nice packaging and neat. 110% would buy from this shop again. Cheaper than any other platforms.
---
Tuesday 22 January, 2019
Ordered on 7decks 17/1/2019. Receive on today 22nd. God speed delivery, trackable. Reasonable price.
---
Monday 08 October, 2018
I try myself to buy items from this shop after read all the testimonial and its worth every ringgit i paid..very2 helpfull staff and all the product are original!!..i would like to recommend to all of you magician or newbie..just buy from this shop..keep it up guys:)
---